Organic Specialty & Milk Soaps
We are very pleased to bring you our gorgeous range of Organic Coconut Milk Cream & Specialty Soaps. They also contain the Organic Coconut Fibre produced as a by-product of our Coconut Milk & Creams, Certified Organic Coconut Oil and Coconut Butter, Pure Virgin Olive Oil, Pure Sunflower Oil and 100% Pure Ricebran oils, Certified organic raw sugars and 100% pure Certified Organic Vanilla Beans to capture the true depth of both fragrance and moisturising delight!   Of course there is also a lot of other delicious and luxurious ingredients in them but most of these are for pure fun and indulgence! We hope you enjoy them. Catch up with us soon on our travels around the NSW Central Coast, Hunter Valley & ACT.  Where are we?
NEW PRODUCT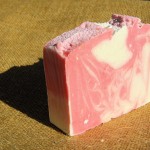 White Patchouli  $8    BY POPULAR DEMAND!
There are so many Patchoulis out there, we have chosen a beautful 'White' Patchouli which is deep and fragrant with gorgeous light top notes of Lily. Put this on your next List, we love it!
NEW PRODUCT!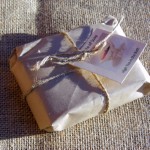 Image coming soon!
Eucalyptus Bluegum  $8.00   BY POPULAR DEMAND!
Floral Emblem of Tasmania – An evergreen tree, one of the most widely cultivated trees Native to Australia, the Classic freshness of Eucalyptus Bluegum essential oil captured in an all natural plain uncoloured block of soap, superfatted with Certified Organic Coconut
Coffee & Coconut Cream Scrubbie  $8 
A beautiful fragrant scrubbie soap. Organic Coffee Beans and Organic Coconut Cream and fibre make the lovely natural exfoliation in this gorgeous soap. Especially for the Coffee lovers, it also contains organic cacao powder for extra moisturising and wonderful smell! A little bit of luxury every day!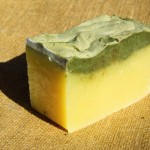 Campers Bug Off Soap  $8
A large cake of camping soap with all the oils needed to keep those bugs off you safely and naturally. Super hard and bubbly for using in hard or salt water, the natural Australian green clay aded for extra cleaning and slip. You can't go on holiday without this great natural bug off product.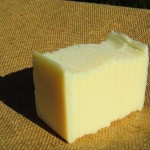 Rough Cut Laundry Soap  $8
This beautful bar of hard working cleansing Laundry soap was so hard only hours after pouring, we had to cut it rough by hand! That's a great thing for long lasting lather and stain removal. We guarantee you will love this bar for hand washing your delicates, stain removal on collars, fruit stains and even wine stains. (Don't leave it too long though!) Safe and gentle it contains organic coconut oil and natural Australian Eucylptus and Lemongrass.
NEW PRODUCT!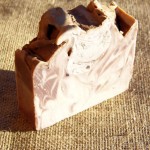 Salted Caramel Cream  $8.  Sorry out of stock 
Smells exactly like Sea Salt Caramel! A delicious caramel vanilla fragrance with that true Salted twist. Swirled with the aid of only the natural sunscreen, Titanium Dioxide, to create the degrees of caramel colouring. This will soon become your favourite soap if you like rich bubbly lather with a carmel smell.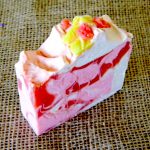 Strawberry Champagne  $8   sorry out of stock 
An all time favourite fragrance, the gorgeous smell of sweet fresh strawberries and raspberries in a sea of creamy champagne bubbles with an underscore of roses, this soap will delight you at once. Its topped with little handmade soap strawberries – what's not to like?
DOOGIE BOW WOW SOAP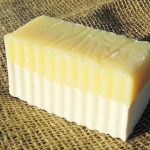 Doggie Bow wow soap $8.00  
Pamper your best friend with our rich lathering long lasting hard bar of all natural doggie soap. Don't waste your money on liquid shampoos for your dog, this soap is beautiful and gentle and safe for your special family member. With all natural Australian Lemongrass, Eucylptus Bluegum and natural Australian clays for extra cleaning power, so your best friend is free of all those pesky mites!
NEW PRODUCT!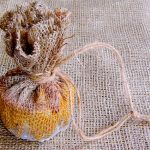 The Gardeners Soap  $8
A large bar of Special soap for The Gardener!  Encased in strong hessian with a hessian string to hang over the outside tap. You don't have to come inside to wash after gardening. Contains ground Pumice stone for extra grit cleaning, Organic Cocoa and Shea butters with Organic Coconut and Olive oils. You Can't go past this one if you love Gardening!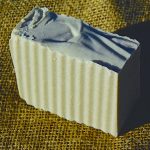 NEW PRODUCT!
Filth Wizard Soap Bar  $8
Here's one for the Filth Wizard! Great also for Mechanics, Gardeners, Miners and Plumbers.With essential oils of Aniseed, Orange, Peppermint, Teatree, & Lemon Ironbark, it contains Organic Shea and Cocoa butters, Volcanic  Rock pumice, Organic Coconut Oil and Coconut Milk alongside other skin conditioning oils.  A great hard scrub, not for the faint of heart, but its hard work is balanced with its nourishing ingredients. Make sure the filth wizard places it into the soap dish afterwards!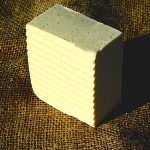 NEW PRODUCT!
Clean & Shave Bar  $8
A large bar of Facial Cleansing and Shaving Soap. Packed with organic ingredient, Organic OatMeal & Oat Milk,  with Organic Oils, alongside nourishing Organic Cocoa and Shea butters, this rich lathering soap bar includes Bentonite Clay and calming Zinc, (a natural sunscreen) for added slip with shaving and additonal cleansing, with Peppermint, Tea-tree, Petitgrain & Grapefruit essential oils. Gentle enough for daily cleansing.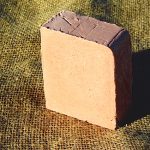 NEW PRODUCT!
Rose Clay Facial Cleansing Bar  $8
A rich creamy full lathering natural soap with cleansing Clays, essential oils and softening skin oils with Certified Organic Oatmeal & Oatmilk. Can be used for normal facial cleansing and is great for all skin types! Work a rich lather sparingly into damp skin daily or to remove makeup and rinse well. Finish with our beautiful all natural Vegan & Palm-free Day or Night Moisturisers.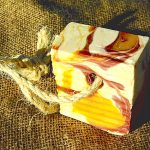 Organic Beer & Hemp Soap on a Rope $8.00
SOAP ON A ROPE! One of our most popular soaps – on a rope for a great no-lose soap. Exactly as it says! Organic Vegan Mountain Goat Beer and Organic Hempseed Milk with Hempseed Oil, Virgin Olive oil, Pure Sunflower and Coconut oils, Ricebran and gorgeous Organic unrefined Shea nut butter, with pure Peppermint, Aniseed and Lemon essential oils.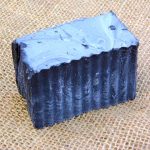 BLACK BAMBOO (activated Charcoal) $8 Ingredients
All natural Black bamboo (activated charcoal) Bentonite Clay, Organic Coconut milk and oil, Organic castor Oil, Olive, Sunflower, Ricebran & essential oils of tea-tree, peppermint, sweet orange, grapefruit and lemon oil to make a beautiful bar of soap highly recommended for Acne, psoriasis, eczema and other skin disorders, a superb superior bar of soap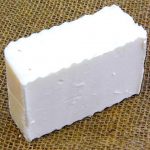 Organic Coconut Milk  Pure Castile  $8  
100% Olive Oil (Pure Castile) with 100% Organic Coconut Milk – the Vegan Goatsoap! No fragrance, a pure plain bar of soap for those who cannot use anything else. Dermatologists and experts tell us that Pure Organic Coconut Milk is 10 times more powerful than Goatsmilk; kinder to the skin, kinder to the goats, gentle enough for babies and skin problems.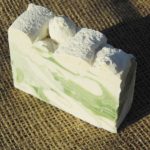 Peppermint & Coconut Cream  $8  
A lovely fresh wake me up Peppermint Arvenis Essential Oil, smells just like the Oddfellow famous peppermints, made with certified organic Coconut Milk and Coconut oil. Just gorgeous.
Organic Oatmeal, & Organic Oatmilk $8.00    sorry out of stock 
Smells absolutely divine! Beautiful natural scrub. Contains Organic Oatmeal, Organic Oat Milk and Organic Toasted Raw Sugar. Enjoy the smooth silky feeling of these Organic ingredients fragranced just like it sounds!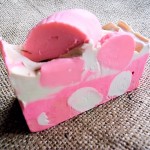 Pink & White Marshmallow (Block) $8  PLEASE NOTE, COLOUR IS NOT THIS BRIGHT
A cute block of gorgeously fragranced Marshmallow like soap you will fall in love with. Contains our Organic Coconut Milk & Organic Coconut Oils for superior moisturising, a luxury bath or shower experience.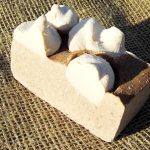 Superfatted Coconut Cream (Block)  $8     Ingredients 
25% Superfatted NEW block of pure Coconut Soap with Organic Coconut Cream & Organic Coconut Oils, fragranced with Coconut Cream you won't be able to put down! The speckling in the soap is the Organic Coconut Oil fibres, which provide a beautiful natural light exfoliant to the skin.
Now in a block with white Coconut bubbles on top! Looks great, and feels amazing on the skin. Superfatting means that 25% of the Organic Coconut oil doesn't turn into soap, so stays as a beautiful moisturiser on the skin. This is the KING of the soaps.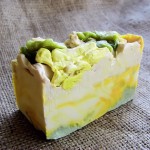 French Pear & Green Tea (Block)  $8   
Smelling tantalising of sweet French Pear and tart Green Tea, a beautiful block of soap with rich lather and bubbles and of course our 5% extra Organic Coconut moisturising!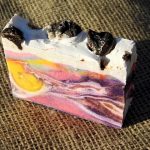 Monkey Farts (Slice)  $8     
This fragrance is now famous in Soaps and Lotions, smelling like a tropical mix of pineapple and bananas and every kind of sweet delicious fresh fruit. We've made it fun colours and topped it with a creamy rich soap icing and some, er, Monkey droppings on top!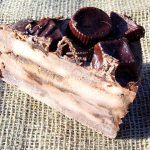 Black Forest Soap Cake  $15  Ingredients  
Here's a great full lathering Soap in a fun Wedge of Cake for all the Vanilla and chocolate lovers out there! Well you asked for it! So we made a Triple Vanilla Fudge with 3 Vanillas and chocolate & added a Coconut Cream Icing with  Raspberry cherries! Richly moisturising with Organic Coconut Milk & Oils, of course.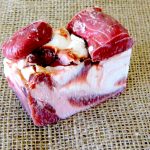 Pomegranate & Cotton Candy (Block)  $8    Ingredients  COLOUR IS NOT THIS BRIGHT 
The delight of fresh tart Pomegranates with the sweet pink fragrance of Cotton Candy, our unusual but enchanting fragrance blend, rich and bubbly, super moisturised with Organic Coconut Milks and Oils. Treat yourself!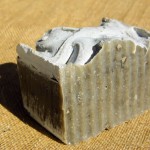 Filth Wizard or Mechanics Pumice Soap $8.00   Ingredients
ALSO GREAT FOR GARDENERS, COALMINERS & FILTH WIZARDS!
Using pure pumice, a volcanic rock, this exfoliating soap is not for the faint hearted! Perfect to get those grimy hands clean while still leaving the skin on your hands in tact. Contains essential oils of Aniseed, Sweet Orange, Peppermint and Lemon Ironbark, all natural antiseptics and as an added bonus we've included Organic unrefined Cocoa butter to help with skin moisturising.