Have fun or give a beautiful gift of our gorgeous hand-made Cupcake Soaps superfatted with Certified Organic Coconut Oil, Virgin Olive Oil, Non-GMO Sunflower & Pure Ricebran oils.
Our Stock turns over very quickly, so they are always being updated in look, colour, fragrance & design. Some of our latest cupcake soaps now use the beautiful Russian Piping Nozzles, which have taken the world by storm. If you want anything particular, or have a question, please email us on gail@highteainthebath.com and we can send you a photo of the latest designs! Either way, we know you will love them.
Pink Floral Cupcake $9.00
Delightfully fragranced with Strawberry Champagne with a hand piped flower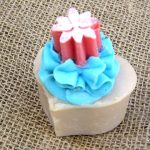 Clean Cotton Cupcake $9.00 
Fresh cotton and sweet Linen fragrance with  a hand piped soap flower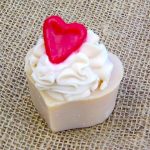 White Frangipani Cupcake $9.00  
Soft delicate floral Frangipani with a fragrant flower soap on top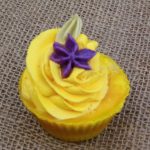 Lemon Myrtle Cupcake  $9.00  
Delicious combination of Sweet Lemon Myrtle swirl topped with a hand piped flower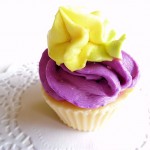 NEW IMAGE COMING SOON
Lavender Heart Cupcake  $9.00  Lavender is now back in stock but has a pink flower on top
Traditional Native Lavender at it's best! Delightfully swirled by hand with a gorgeous PINK Daisy on the top Mixed with a tinge of grapefruit in the base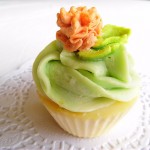 Jasmine & Green Tea Cupcake  $9.00  
Enjoy the lingering fresh fragrance of Native Jasmine blossom tinged with the freshness of Green Tea, topped with a Mango fresh flower and leaves
Sweet Mango Pea Cupcake  $9.00  
The delightful fresh fragrance of  Mango with undertones of Sweet Pea, finished with a Lavender flower and mint green leaves
Cupcake Soaps Regular Set of 4  Random Choice – $30
A set of 4 of our Current Cupcake Soaps as above at Random Pick! If you want specific colours, please email us – see contact page.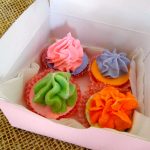 Mini Cupcakes Set of 4   $15   
Gorgeous little set of 4 Mini Cupcakes, A variety pack of  Pinks, Blues, Greens, lemons, purples and various other shades.