Australian Native Bush & Wildflower Soaps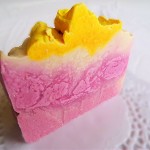 Wild Dog Rose $7.00   Ingredients   
The most abundant of our native wild roses; a scrambling shrub found in hedgerows, woodland edges, sand dunes and grasslands. An important shrub in the wild, providing shelter for wildlife. The bright red rose hips are valuable for medicines, fragrance, crafts and alcohol. This beautiful soap smells of the Tuberose, soft and velvety.
Queen of Sheba  $7.00   Ingredients    
The jewel-in-the-crown of Western Australia's Native Orchids, used for its beautiful perfume and flower. Orchids of this genus often mimic other nectar-providing plants in order to be pollinated, typically by bees. Smells of beautiful Orchids underscored with subtle sweet Coconut.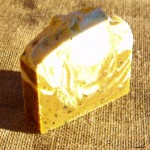 Lemon Myrtle & Mountain Berry Pepper $7.00  Ingredients
Fresh Mountain berry peppers from Jindi Farm Bush Foods in Jindivick, Victoria, alongside Australian Lemon Myrtle and Lemon Eucalyptus, this beautiful soap will get you up in the morning with it's fresh tang and light exfoliating berries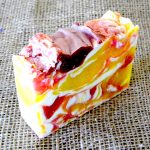 Native Frangipani $7.00 Ingredients    sorry out of stock 
Frangipani Plumeria blooms in Spring and Summer and its flowers have an exquisite fragrance, which we were inspired to recreate alongside shades of yellow and white with a deep burgundy stamen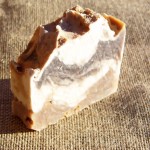 Australian Sandalwood $7.00  Ingredients   
Beautifully fragranced with Sandalwood, we have incorporated 3 shades of natural Sandalwood powder and Sandalwood essential oil to cleanse and soften the skin naturally. A deep masculine scent to this one
Wild Honeysuckle $7.00 Ingredients
This soap smells exactly like Honeysuckle, recreated in shades of oranges, yellows and creams. There are about 180 species of honeysuckle, a significant plant for inland indigenous people, it provides abundant nectar. A member of the Banksia species
Native Lavender $7.00  Ingredients 
There's nothing as nice as Classical pure Lavender. This one has purple and white swirls and a deep rich lavender essential oil reminiscent of the Australian Bush Lavender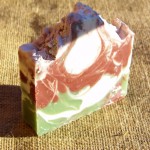 Native Tea-tree $7.00  Ingredients   
Softly swirling layers of natural clays with pure Australian Tea-tree, not only refreshing but anti-micorbial as well, and perfect for shaving!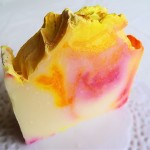 Wild Jasmine  $7.00 Ingredients  
Funnel shaped white to pink flowers, this soap is reminiscent of true wild Jasmine blossom and will delight your senses. It is a native of NSW and Queensland a genus containing around 200 species. It is valued for its exquisite fragrance and flavour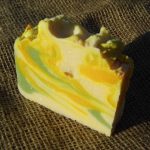 Lemongrass  $7.00  Ingredients    
Although not a Native of Australia, nevertheless Lemongrass grows here freely and has a lovely fresh strong smell that Australians have grown to love. Our most popular soap of all, so we have to continue to include it! A strong smelling soap that lasts through till the end of the bar, Lemongrass is renowned for keeping uninvited critters away, is wonderful to use as a bracing uplifting morning shower bar.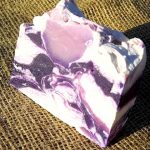 Sturts Desert Rose $7.00   Ingredients  
Floral emblem of the Northern Territory – Not considered at risk in the wild, it grows in dry land and is able to conserve and store water. Also known as the Cotton Rosebush, we have recreated the soft magenta, burgundy and purple swirls with a surprising fragrance of Rose and Fresh Cotton