FANTASTIC CHRISTMAS IDEAS! . . Don't miss out!!!!!!!!!
Christmas Cupcake 4 Pack  $30  
A fun pack of gorgeous smelling Christmas Cupcake Soaps. A great random combination of Reds, Greens, Chocolates, Whites, & Blues with bows, flowers, stars, and holly with berries.  A great Gift for the person that has everything, they contain all our natural ingredients with organic coconut oil.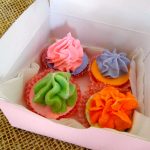 Mini Cupcake 4-Pack  $15   
A set of 4 (Colours are Random unless you e-mail us with specific colours) beautiful hand-made Mini Soap Cupcakes that smell as good as they look. Pink is Strawberry Champagne, Blue is Fresh Clean Cotton, Lemon is Lemon Myrtle, Chocolate is Chocolate, White is a gorgeous light floral such as Gardenia or Sweet Pea, Orange is Orange/Tangerine, Purple is Lavender, Green is Jasmine.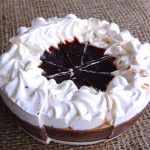 Coconut & Chocolate Cream Pie  $15    sorry out of stock 
great cake of Chocolate Soap cut into 8 mini wedges ready for use, or make great Guest soaps. Layers of Chocolate and Coconut Cream with our organic coconut oil.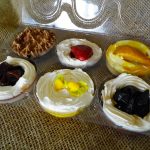 6-Pack Tarts & Pies  $30  
A life like selection of soap tarts and pies. From back left – Coconut Cream Pie, Strawberry Tart, French Pear & Custard, Front from left – Chocolate Fudge Pie, Lemon Meringue and Blueberry Shortcake tart. Yum! All made with our organic coconut, and natural ingredients.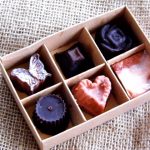 Novelty Box Chocolate Guest soaps  $15
A box of novelty chocolate soaps, great fun for that special gift or to surprise your stay over guests. In an all natural brown box with ingredient band around them.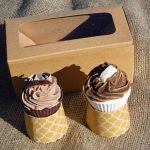 2-pack Chocolate Cupcake soaps  $15  – SORRY – OUT OF STOCK
A 2-pack of cupcake soaps in their papers and brown cupcake box, with an ingredient tag to show our use of all natural and organic ingredients, that we are totally Vegan, Cruelty free and Palm free. Using dark and light chocolate simulation these are a great talking point and a lot of fun.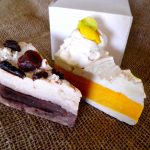 2 – Pack Wedges of Soapcake  – Double Chocolate & Lemon Meringue Pie $20
SORRY OUT OF STOCK 
A lovely novelty pack of 2 of our soap wedges, Double Chocolate Cake & Lemon Meringue pie. Smelling exactly as they sound, with layers of Chocolate, and Lemon Meringue & Cream. Topped with Soap cream & Lemons or Chocolate soaps, these make a great gift. They come in a small white box.  Wedge sizes are approximately 10cm long by 6cm high and weigh around 150 grams each. You won't be disappointed in these delightful Soap cakes.
A CAKE OF CHRISTMAS SOAP   $15
A slice of Christmas Cake soap, with icing and holly and berries on top. Made with all our usual natural and organic ingredients, these are a great gift for the man or woman who has everything, but hey! Everyone has to wash don't they? (We hope).
Christmas Pudding  $15
A great fun soap smelling delicious with Lemon Myrtle, Sweet Orange, Lime, Ginger and  coconut,. A big dollop of yellow custard on top with holly and berries. A great gift choice, a large piece of soap with organic coconut to last all summer!