Organic Body Care
We have our gorgeous luxurious range of delicious whipped body butters in large tubs with Certified Organic Coconut oil, Certified Organic Cocoa Butter and Certified Organic Shea Butter, alongside Virgin Olive Oil, pure Sunflower and Pure Ricebran Oil, and the new Eco-Soy Wax (non- GMO) –
Creamed Body Butter – Marshmallow $18 
Along with Coconut Cream Body Butter, this is our best seller!
Already one of our most popular fragrances, reminiscent of soft sweet rose and deep musk. You will love this new pale pink rich Body Butter, superb for dry skin everywhere. Our gorgeous body butters are totally addictive and only a small amount is needed for maximum all over body moisture. This fragrance matches our new Range of Marshmallow Products, sold separately or as a Pack.  Find the Fragrance & Hand Lotions below, and our gorgeous Pink & White Marshmallow Soap under Specialty & Organic Milk Soaps. The complete set can be found in Gift Packs & Boxed Sets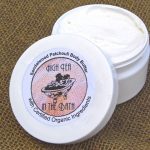 Creamed Body Butter – Sandalwood & Patchouli $18
Sandalwood with Patchouli.  A soft velvety fragrance and feel to this one. Give it a try if you love Sandalwood or Patchouli. You will not be disappointed!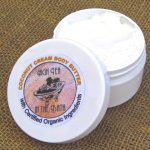 Creamed Body Butter – Coconut Cream  $18
Along with our Marshmallow Body Butter – this is our best seller!
Creamy and soft for the ultimate body moisturising experience. Smells just like creamy sugary coconuts. A beautiful and addictive smell that doesn't interfere with your other fragrances, but stays around on your skin all day.  280ml pot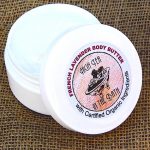 Creamed Body Butter – French Lavender  $18
A beautiful Classic French lavender essential oil in a  silky smooth creamy body butter for all over after-bath or shower moisture. Team it with one of our beautiful Lavender soaps for the ultimate experience.  This is the one to use for  skin eczema, psoriasis, dermatitis, rashes, and delicate skins, including Baby.
280ml pot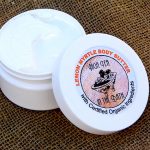 Sorry Out Of Stock
Creamed Body Butter – Lemon Myrtle  $18  
For a true Lemon Myrtle body butter experience, use our creamy butter with Lemon Myrtle a strong lasting lemon experience,  280ml pot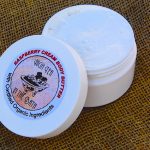 o
Creamed Body Butter – Black Raspberry  $18
Smells absolutely delicious, just like sun ripened raspberries with sweet brown caramel sugar. Certified Organic coconut oil and butters whipped to a thick luscious butter. 280ml pot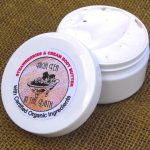 Creamed Body Butter – Champagne & Strawberries $18
Sweet and delicious like crusty hot pie, this is another all-time favourite that smells like Strawberries & Cream (Vegan) Milk with Coconut Cream. Lashings of this all over the body will moisturise and sweeten you up!
280ml pot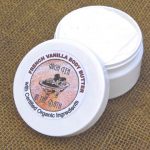 Creamed Body Butter – Vanilla  Caramel $18.00
This one sells out fast! Who wouldn't love the rich creamy fragrance of Vanilla combined with delicious Sweet Caramelised Brown Sugar, only ours contains certified Organic Vanilla beans, and the beautiful smell of the organic coconut oil, cocoa and shea butters, all certified organic, cannot be beaten!  280ml  pot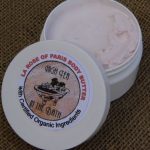 Creamed Body Butter – Midnight Rose Otto $18.00
A beautiful classic rose, sweet and promising, creamy and thick, sinks into the skin on contact leaving a deliciously fragrant smooth soft skin you'll be proud to show off.  280ml pot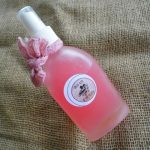 Marshmallow Fragrance Body Spray  $25
Our new body fragrance spray, soft and feminine, our customers tell us the beautiful aroma of this lasts all day. Begin with the Organic Coconut Pink & White Marshmallow soap, add the rich moisturising Marshmallow Body Butter to match (above) and Spray the beautiful Body Fragrance Spray, and you're set to go for the day or the night! While you're getting ready to go, treat yourself to one of our beautiful Marshmallow Candles from 'Let there be Light'.
Natural Bath Care
A Range of Fun and practical bath-time products.
Although we DO make bath bombs and fizzies, we don't post out the bathbombs due to the fragility of their nature. So come and visit us if you would like to see our lovely range of Bath bombs and Bathbomb Cupcakes.
NEW PRODUCT!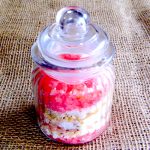 Currently Out Of Stock
Large Organic Bath Tea  $20
Enjoy your Bath time with our gorgeous Coconut and Orange fragrant Bath Tea. Comes with a wooden scoop to dig deep into the layers of Organic Coconut, Oatmeal, all the natural Salts and many other relaxing ingredients. Layer upon layer of delicious nutrient-rich bath ingredients, from Organic Coconut milks and chips to all natural salts and soothing healing ingredients. Smells divinely of Coconut Cream and Orange. A little wooden scoop for you to spoon into the bath, lie back and relax while moisturising your body at the same time. Follow up your after-bath care with one of our delicious Creamed Body Butters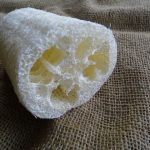 LOOFAH SCRUBBIE  $7 Sorry Out of Stock
All natural pure vegetable scrubby, long-lasting and seriously exfoliating for a smooth and polished feel to your skin. Follow up with one of our delicious Creamed Body Butters. Great for a foot scrub!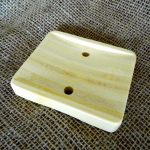 NATURAL BAMBOO SOAP DISH  $7  Large   
All natural bamboo soap dish contains two holes for draining your soap. Fits High Tea in the Bath large  bars of soap perfectly to give your soap longer lasting hardness and lather by allowing to dry and drain between uses.